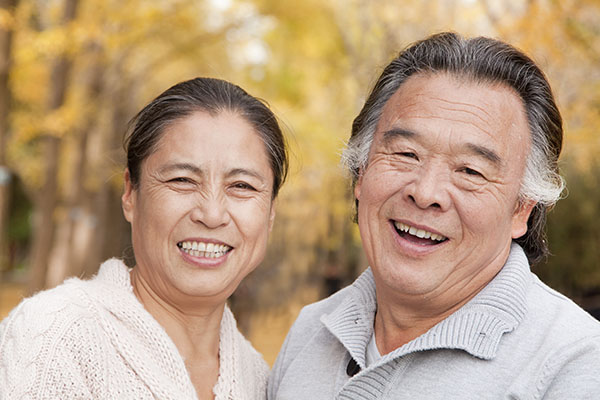 Dental Implants are a popular teeth replacement solution that involves placing a titanium post in the jawbone to serve as the support system for a replacement tooth. Understanding more about dental implants and how they can restore the appearance, health and functionality of your smile can help you decide if treatment is for you.
Things to know about dental implants before treatment
General dentists often recommend dental implants due to the comfort they offer and their long-term durability, along with their ability to preserve bone density and improve oral health. The following are four common questions general dentists receive in regards to dental implants.
Who is a good candidate for dental implants?
Dental implants are a teeth replacement solution in which the artificial teeth attach to titanium posts. The titanium posts are placed into the jawbone, where they go through a process called osseointegration and fuse with the natural jawbone. The process is longer and does involve some more invasive procedures, so the ideal candidate is one who is in good oral health (and general health) and that is willing to go through a longer process for a better and more durable set of replacement teeth.
What are the benefits of dental implants?
There are many benefits of dental implants, particularly when you compare them with other popular teeth replacement solutions. The most notable benefits of dental implants include:
More natural feel
Prevents bone loss
Attractive appearance
Long term durability
Easy oral care routine
Fewer food restrictions
The benefits often make dental implants worth the process, especially for patients who want the overall most effective and natural way to replace missing teeth. Most patients find that their dental implants feel, function and look just like their natural teeth did.
What are the disadvantages of dental implants?
There are some notable disadvantages involved with dental implants. Most notably, the treatment process is much longer. The patient may also require bone grafting before treatment, which makes the process longer. Also, patients should be willing and able to go through a minor surgical procedure to place the dental implant into the jawbone, although this is safe when performed by an experienced dentist. The cost for dental implants is higher, but dental implants last much longer and are easier to care for than traditional dentures or a fixed bridge.
How long do dental implants last?
Dental implants last between 15 and 20 years on average. With proper care, it is not uncommon for patients to enjoy them for a quarter of a century or longer. Also, the rate of dental implant failure after the placement procedure is relatively low. The patient can also care for their dental implants through a consistent oral care routine at home, smart dietary choices and regular visits with the dentist.
Schedule a consultation visit with our general dentistry today
You can schedule a dental implants consultation with our general dentist team today. We are happy to answer any additional questions you have and explain the process in greater depth during your first visit with us.
Request an appointment here: https://www.jonesfamilydentistryonline.com or call Jones Family Dentistry at (281) 205-5392 for an appointment in our Cleveland office.
Check out what others are saying about our dental services on Yelp: Dental Implants in Cleveland, TX.
---
Related Posts
October 16, 2018
From chewing to speaking, teeth play an important part in one's daily life. In the past, there were only a few treatment options for missing teeth. With the advancements in dental technology, people can now …